Connect valeting management software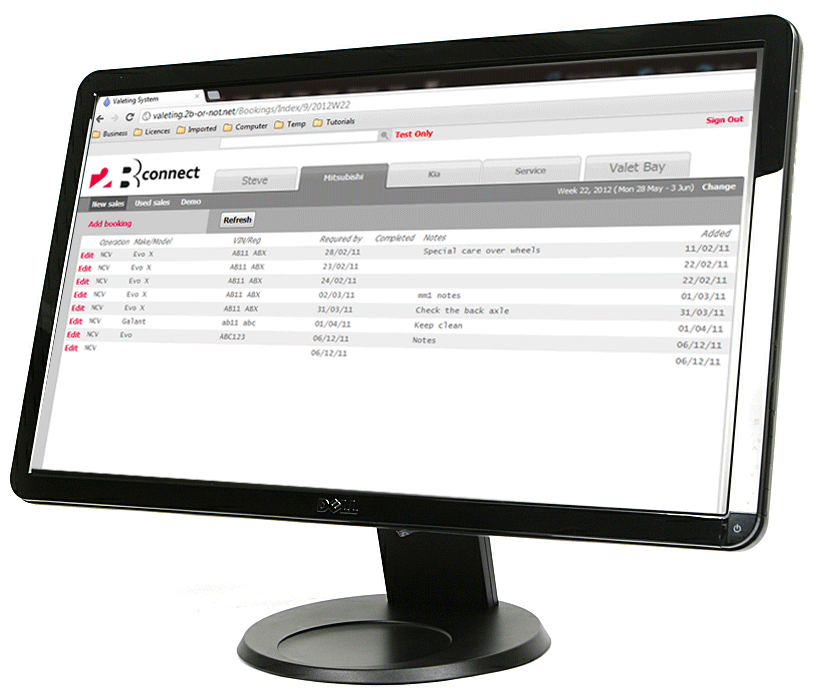 No more paper dockets
2B Connect provides an electronic link between garage personnel and the valet bay. As a customer, you log onto the secure system and enter the details of the vehicle into the system. This is then automatically transferred to a touch screen in the valet bay.
Is that car finished yet?
2B Connect provides up to the minute status information about each vehicle at a glance, so you can see exactly what is happening in the valet bay. You can also specify exactly when you need a vehicle completed - even up to 6 weeks in advance, enabling you to plan ahead, for example for fleet movements.
Other features
The system has other intelligent features - for example, if more than the usual number of vehicles are booked the system can automatically notify the valeting company to provide extra staff; you can search to find out the valeting history of a vehicle; and there is a summary of the operations booked for the week. A detailed download file integrates with your existing internal system for invoice processing.
If you're a valeting company looking for an electronic system
...give us a call or send an email and we'd be delighted to discuss your needs.